George the Beetle.
Posted on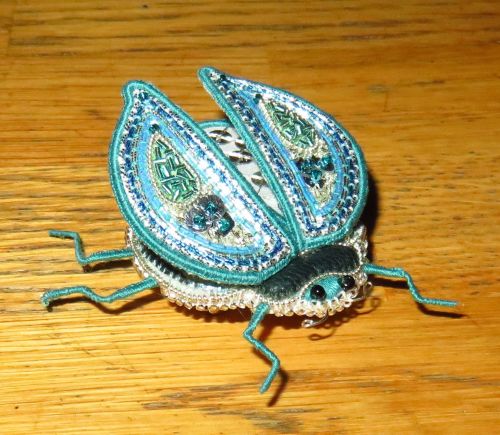 I'd like to introduce you to George - George was a project I set myself for over Christmas time - I'm not good with nothing to do - I find it best to always have some embroidery (often more than one! ) project on the go.
It can be difficult when you design embroidery kits for a living (as well as all the other stuff I do), to find something to work on that isn't destined to be a kit - hence George.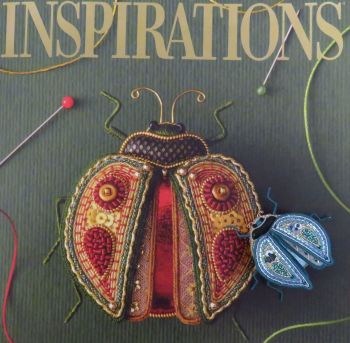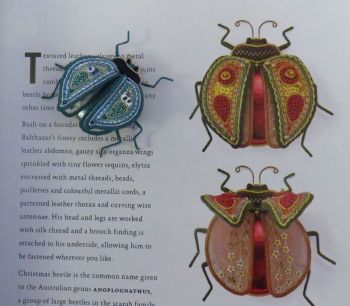 George was inspired by Balthazar the beetle brooch featured on the front cover of the Inspirations magazine (issue 116) designed by Tania Cohen.
I'd not done stumpwork for many years, so it was nice to try my hand at this technique again. I started by raiding my stash of threads and beads (of which there is a lot).
Looking at him, one of the main features is the covered leather on the main body - I didn't have any red leather but I had a lovely piece of turquoise which was the perfect size - colour decision sorted!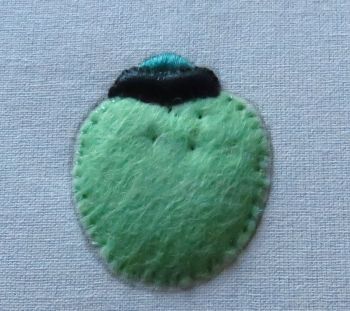 The body is worked by layering up pieces of felt to give a nice rounded shape.
The head is worked in satin stitch and the thorax is covered in black leather, the abdomen is covered in the turquoise leather.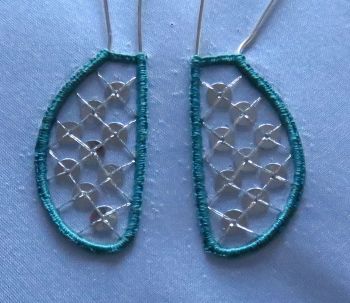 The wings are worked on 2 layers of silk organza.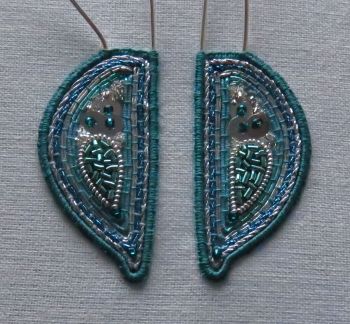 The elytra are worked on calico, the wire is stitched all around with a buttonhole stitch and the centre is filled in with a variety of materials such as jap, bright check, pearl purl, sequins, rough purl and beads.
Once completed, the wings and elytra are carefully cut out.
On the whole, I did stick to the pattern - apart from adding the backing fabric once the beetle is assembled - the 2 layers are supposed to be just glued together, but I wasn't happy with the join - so I worked a beaded edge using size 15 seed beads - a fiddly job - the legs kept getting in the way but on the whole I'm very happy with George!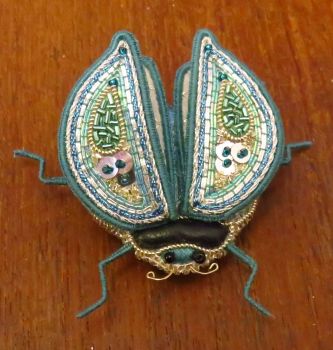 Oh, you may just be wondering why I've called him George - well to me he doesn't look much like a John, Paul or Ringo - and he is after all a beetle!