Arthur the Sample Owl.
Posted on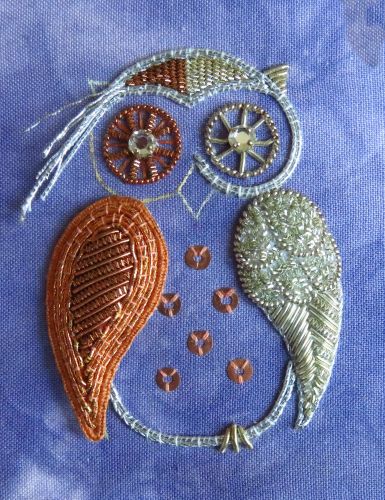 This is Arthur, he's a 'sample owl' - a very rare but very important little chap.
He may look rather strange but there is a very good reason for that - to understand him we have to go back to his half brother Gilderoy.
When I designed Gilderoy I always had in mind that he would be just the start - I wanted to create a series of 3 owls - each in a different colour (gold, silver and copper) and each slightly different from the others - using different gold work techniques.
With Gilderoy I wanted to create an owl that was very much an introduction to goldwork. Goldwork is such a wonderful branch of embroidery and uses so many amazingly different threads and techniques such as pearl purl, smooth purl, twist and imitation jap, which a traditional embroiderer may never have encountered before - so as a beginner starting on the wonderful discovery of goldwork it can be quite daunting getting to grips with all the new materials and ways to handle them.
With this in mind, Gilderoy covers some of the essential techniques such as padding, couching and chipping and uses many of the traditional goldwork materials such as pearl purl, imitation jap, twist, kid and bright check.
With Gilderoy already sorted, I turned my attention to his brothers, there are 2 of them - Silvester (silver) and Cuthbert (copper ) - this is where Arthur comes in - I needed to work out how I could make each similar but different and for this I needed to sample them, but rather than working each owl completely I decided I would do a combined sample hence Arthur!
As you can see Silvester has more technically fiddly cut work on his wings - this requires precision with measuring and cutting the smooth purl. Cuthbert is in part a stump work owl as his wings are worked seperately then applied.
As you can see, Arthur is a very important little owl and because of this, it's only right that he gets his own moment in the spotlight.