Coronation Inspiration - Saga of designing a new kit.
Posted on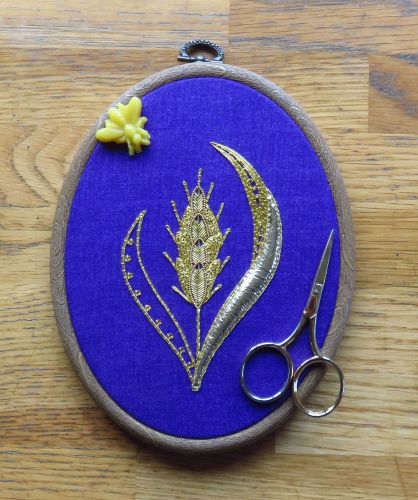 This is my coronation inspiration kit - and yes getting to this point has been quite a saga - let me explain.
The idea for this kit came about in the autumn of 2021 - I knew I wanted to design a kit around the goldwork embroidery on the Imperial Coronation Robe (the purple one!) worn by Queen Elizabeth II - the reasons being as follows:
- I am lucky enough to teach at Sunnycroft National Trust property in Wellington in Shropshire,
- Sunnycrofts last owner Joan Lander trained with the Royal School of Needlework,
- Whilst at the Royal School of Needlework Joan Lander worked on the coronation robe.
With the platinum jubilee coming up, it seemed like a good idea - to design something that I could teach at Sunnycroft.
It didn't work out quite like that though....
I worked the design out - and began stitching it in November '21 - taking photographs of each stage as I went along.
By the end of the year I'd finished the piece - just needed to write the instructions and it would be complete - ready to teach.
By the spring, the instuctions were all completed - I'd checked them over - all seemed in order - then I printed it off - this is where it went wrong.
I didn't like how the images were coming out - no matter how I tweaked the image, or retook the photos, the result was the same - the printed image just didn't look right - it looked grey and uninspiring. So I did the only thing I could do at the time - I put it to one side and left it - a problem to return to.
I think the problem was that I had used ivory dupion silk as the base for the embroidery, and whilst in real life it looked good - it didn't photograph well - it just looked grey and dull.
I did take the finished piece with me to one of my workshops at Sunnycroft - just to get some feedback from the ladies who were attending my classes, they liked the design - and between us we decided that the design was worth saving, but would need redoing on a different background - which as you can see is what I have done.
I also took the opportunity to slightly alter the leaf on the right hand side as I had felt that this one needed to be longer to balance the embroidery better.
I'm really happy with how this design has turned out - it remains to be seen whether anyone else likes it enough to buy it!
I'll finish this post with a picture of the original - hopefully you can see why it caused me some problems.